Crystal Apple Awards for April and May
Tuesday, June 03, 2014
The Crystal Apple Award is provided through a partnership with Family Security and WAY-FM. This award is presented each month to a deserving teacher who is nominated by a student or parent for outstanding commitment to their students. Nominations are submitted and reviewed monthly.
Coach Bell - James Clements High School
Coach Bell from James Clements High School in Madison was presented with the Crystal Apple award for April. Coach Bell coaches the track team. Our congratulations go out to him!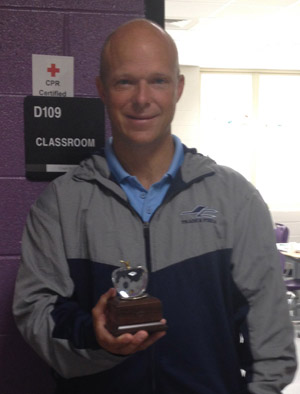 Mrs. Peck - FE Burleson Elementary School
Congratualtions to Mrs. Kim Peck of FE Burleson Elementary School in Hartselle. Mrs. Peck received the Crystal Apple Award for May. She was nominated by Crystal Stinson on behalf of her son Bryson. Congratulations Mrs. Peck!